Consortium member
Victoria George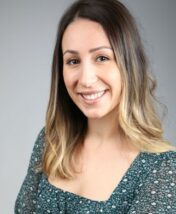 Biography
Victoria has been a PhD student at Deakin University, Melbourne since July 2021. Her research focus is primarily aimed at understanding how various environmental factors, in particular diet and stress, impact the sperm epigenome, and how this might influence the health trajectory of future generations. Ultimately, she would like to assist in the creation of stringent guidelines for fathers-to-be to adhere to around conception time, so that our future generations have the best chance of leading a healthy life.
Her role within the GECKO Consortium is to oversee the completion of the diet study in a cohort of male twin pairs.
Victoria completed her previous studies at Monash University, Melbourne, starting with the Bachelor of Science, followed by a Graduate Diploma in Reproductive Sciences and finally the Master of Clinical Embryology, highlighting her passion toward fertility and reproductive health. She has also worked as a teaching associate and taught students how to do various fertility laboratory related procedures such as IVF.